Essential Blues Traditions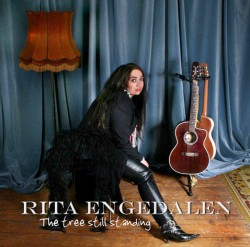 Plateanmeldelser · BluesWax · This will certainly be a contender for another Norwegian Grammy Award.

Essential Blues traditions have been handed to Norway's Rita Engedalen. Her deep friendships with mentors like the late Kristin Berglund and Jessie Mae Hemphill have given Engedalen the inner fire to carry on. From Berglund, Engedalen learned the histories of women who rocked the Blues from Bessie to Janis. From Hemphill, Engedalen beheld the Blues one lives in Clarksdale, Mississippi. It was through her Delta visits with Hemphill that Engedalen became baptized in the waters of the Sunflower River. Her last record, Heaven Ain't Ready Yet, won the 2006 Norwegian Grammy as Best Blues album. And I can tell you that, because Norway has a huge number of top-notch Blues bands and artists, winning that award is quite an accomplishment.
Engedalen herself is a competent songwriter who is able to effortlessly combine elements of American Blues and Folk music with her own Norwegian Folk traditions. She is an accomplished guitarist and, after three records and years of hard touring both solo and with her band, Engedalen has worked hard to become a polished vocalist. She no longer sings with a pronounced accent; she easily connects her stories to her listeners. To hear the proof, fast forward to her assured treatment of "Let Go," wherein Engedalen's controlled, emotional build-up effortlessly speaks to all.
Backing Engedalen on this record are her regular band, featuring Morton Omlid, one of Norway's finest Blues guitarists. On the opening tune, "Where Does Everybody Go," Omlid adds an understated Mark Knopfler-styled guitar and Eskil Aasland gently brushes the drums as Engedalen connects to her Folk roots. Her visits with Jessie Mae are chronicled in her profile of Hemphill on "They Call Her She Wolf." In "Issaquena," Engedalen sings vivid snapshots about playing at the Sunflower Blues Festival. Knut Nyheim's mournful Norwegian fiddle and Engedalen's finger-picked guitar unite the Folk music of these two cultures. The heavy bass of Jens Haugen and the church-like B3 of Espen Fjelle help Engedalen get deep into the Gospel music of the South on "Lord Help The Poor And Needy." The addition of banjo and Dobro on "They Go From The North To The South" augments the women's hardships that Engedalen and Margit Bakken vocalize.
When Engedalen covers others, she picks acoustic guitar and Jostein Forsberg blows acoustic harp on Janis Joplin's "Turtle Blues." Her take on another mentor, Memphis Minnie, has Omlid and Engedalen doing "Keep On Going." On Maria McKee's "You Are The Light," the angelic voices of Engedalen and Margit Bakken meld their Norwegian Stave Church backgrounds with cotton field testifyin'. The record ends with "I'm Changed," Engedalen's personal message that all her experiences of loss and joy only serve to strengthen her future bearing and that the lessons of her mentors will always be part of her vision. This will certainly be a contender for another Norwegian Grammy Award.
Les mer om «The tree still standing» fra Rita Engedalen